Get superior performance for your gasketing and sealing applications with
Rogers BISCO® foam
Rogers BISCO silicone foams are world leaders in gasketing and sealing applications thanks to their resistance to temperature extremes, UV and ozone. In addition, they are highly resilient to mechanical fatigue and have excellent compression-set and creep resistance.
BISCO silicone foams comply with the most stringent UL flame ratings. Moreover, Rogers manufacturers these foams in an AS-9100 ISO-9001 certified facility, offering a wide range of cellular, solid and specialty materials produced in roll stock. As a result, manufacturers trust BISCO silicone foams for their superior performance characteristics.
Why Precision Converting for BISCO silicone foams?
Precision Converting is a Rogers Preferred Converter. We die-cut Rogers BISCO foam into custom gaskets, heat shields, fire stops, seals, cushions and insulation. Plus, we offer great pricing and an exceptional level of service and support for Rogers products.
BISCO silicone foams provide superior and durable performance in applications such as:
• Gasketing & Sealing
• Cold Supply Chain
• Spacers & Bin Liners
• Thermal Solutions
• Vibration Management
• Wire & Cable Protection
• Cushioning
• Flame Barrier
• Gap Filling
• HEV Enclosures
• LCD Gaskets
• Shock Absorption
• Sound Blocking & Absorption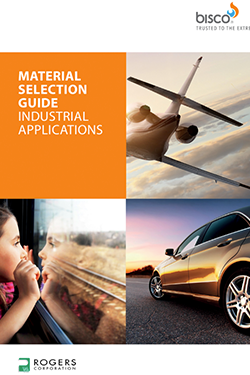 BISCO Material Selection Guide
Contact Precision Converting to solve your design and performance challenges with silicone foam.